Mindfulness in the Making
Post written by Celia Marshall
My My name is Celia Marshall. I am one of the Social Studio summer interns. After I attended a soccer and leadership camp this summer, they challenged us to bring a leadership project back to our community. I decided to have campers from Social Studio make coloring pages to give to children at Sheppard Pratt, a mental health hospital located in Baltimore.
People feel good when they help other people.
Motivated by the idea that helping others makes people feel good, I thought of two businesses to help execute my community leadership project, Social Studio was a very important part of the project because art is a great way to reach other people and the kids at the camp could learn empathy and give back to those in their community. Sheppard Pratt is a very special organization to me because my mother works there and they have helped other people in my family. I saw an opportunity for the kids at Social Studio to connect with the kids at Sheppard Pratt, and the best way to accomplish this is through art!
Art is a great way to reach and help other people.
While the kids were drawing their coloring pages they said it was fun to have the freedom to draw what they wanted and that it made them happy to do something for other people. After the project was completed, it seemed very beneficial to both the kids at Social Studio and the kids at Sheppard Pratt. Through making coloring pages, the kids at Social Studio were able to consider the experiences of other kids their age and have fun drawing and the kids at Sheppard Pratt were able to have handmade coloring pages. Art was a great way to accomplish my leadership challenge of helping other people in the community.
Resources: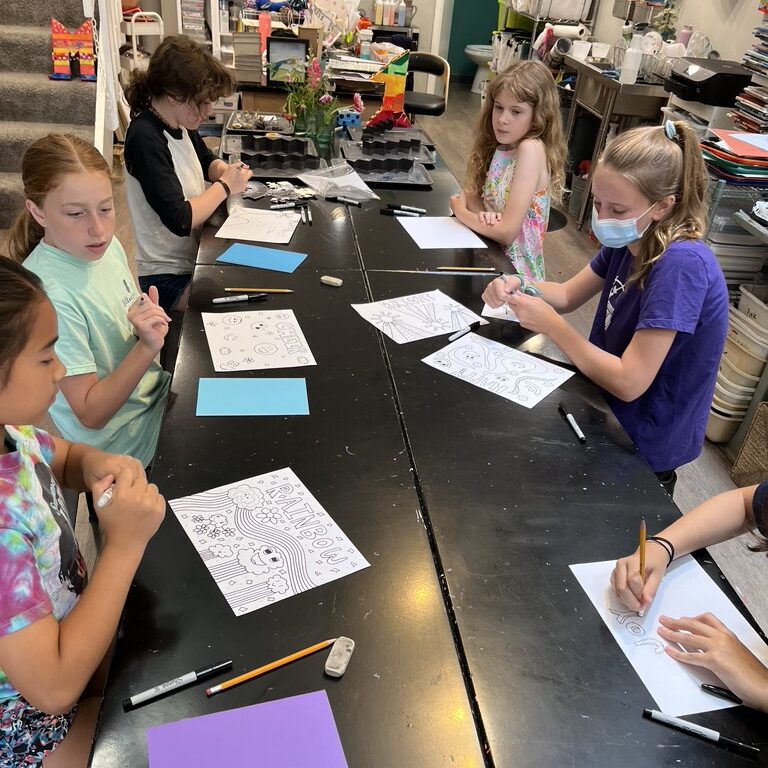 TRY THIS: Make your own coloring page!
If you would like to make a coloring page at home grab a piece of computer printer paper and follow these steps:
Think of a word that makes you feel happy.
Write the word on the top of the page in big block letters.
Think about different shapes, objects, designs, animals, or whatever else the word reminds you of that you can draw. Then, fill the rest of the page with those drawings but do not color them in!
Go in with a thin sharpie and add smaller details to your drawings.
Copy your paper to make many and/or share and then color it in!